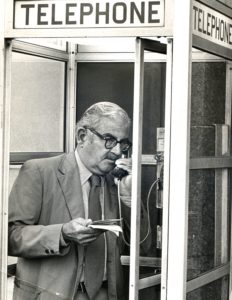 In 1993, the Philadelphia Inquirer and the Philadelphia Daily News devoted many column inches to an obituary for my father, William John Storm, a crime reporter (retired) for a rival daily paper, The Philadelphia Bulletin. (Those were the days — three thriving daily newspapers in one city.)
One obit writer described him as "perhaps the greatest 'house–end' reporter' who ever worked in Philly," where I grew up. A house-ender is journalism lingo for the reporter assigned to knock on the door of a grief-stricken family to collect the facts and anecdotes that put faces, feelings, and life into a story about a tragedy. For example, when 29-year-old Mary Jo Kopechne died from drowning at Chappaquiddick under suspicious circumstances involving Sen. Edward Kennedy in 1969, my dad was the reporter chosen to knock on the door of her family home to gently draw out the essential human-interest angle.
When I read my father's full obituary, I was so pleased. Yes, I'd realized for years that Dad was a stellar reporter, but I didn't know he was as treasured for his humanity as for his reportorial skills. The executive editor of the Bulletin at the time, reflecting on my dad, said, "He was unbelievable. He combined compassion with great skill, did his job wonderfully with a minimum of disruption to people's lives, which had already been shattered in one way or another."
"Billy," as my mother affectionately called him, spread his compassion around at home, too. A quiet man but also a raconteur with a fine sense of humor, Dad rarely mentioned his childhood. But hints and offhand remarks were dropped on occasion; we knew his youth had not been carefree or easy. Nonetheless, our father created a loving and comfortable home for us. Unfailingly kind, patient, and fun loving, he ensured there was always a sporty convertible in the driveway, libations by the pool, and an overflowing stack of good books by the fireplace.
When Dad died of a massive stroke at 76, I felt so fortunate to have had him to love — and to learn from — for so many years. He sometimes reminded me that, "there are no small stories. Every story deserves your best effort." This from the many who covered the partial nuclear disaster at Three Mile Island in 1973 and was one of only a few reporters present when James Earl Ray, who assassinated Martin Luther King, was captured after escaping from a Tennessee prison in 1977.
For as long as I can remember, I wanted to be like my dad. At age 7, I taught myself to type on the old Olivetti in his den. Fifty-five years later, when stumped by a personal or a professional trial, I still consider how he might approach it. Long after his passing, he remains my mentor, my inspiration, and — most important — the parent who offered unconditional love.
Happy Father's Day, Dad. Thanks for the memories. As I do every Father's Day, I'll visit you, taking a seat on the garden bench near the Sugar Time Maple planted in your honor in a peaceful and verdant Wilmette, Illinois Park.